The perfect low maintenance exterior products

Changing the Conversation Around Exteriors
The ante has been raised regarding building exteriors, so Tando has raised the bar on exterior cladding. Tando was created to:

Low Maintenance
Low maintenance exteriors with no compromise on the natural beauty and realism of authentic cedar and stone.

Mixed Materials
Leverage the installer's creativity and desire to turn ordinary walls into breathtaking mixed material exteriors.

Moisture Management
Address and mitigate concerns around moisture management.
First There Was Stone
Then Stone Veneer
Now There's
Tando the #1 Brand of Composite Stone
TandoStone is the #1 brand of composite stone. Its unique Tando TruGrit texture gives the feel and low-gloss look homeowners desire. Professionals love the rigid panels that install fast and easily with standard Siding tools. The high tech composite construction of TandoStone make it impervious to moisture, allowing installation at ground level and in any weather.
Stacked
Stone
The classic elegance and intricate detail of small stones give this stone the appearance of a precision hand-laid dry-stack set.
Creek
Ledgestone
The rugged look of hand-picked stone installed with grout shows the natural variation of each stone.
For The Life of Your Home
Fresh cedar has a warm rich hue until exposure to the elements causes unattractive discoloration, streaking, and splitting. Preserving the natural look is a never-ending battle.
Just imagine if your cedar could stay looking like the day it was installed, for the life of your home. Now it can with Beach House Shake.
Beach House Shake is the only product on the market that will stay looking like the day it was installed a promise thats backed by an unmatched 20-year Beautiful Freedom warranty.
Traditional saw cuts create subtle variations in wood grain for a randomized appearance
Unique edge grain texture offers an unmatched level of detail
Precision cut perfection shake with straight and true squared edges
Unique KAPGUARD with Kynar coating provides guaranteed color protection for 20+ years
Beach House Shake is everything you want from natural cedar. Nothing you don't.
BEAUTY That Never Grows Old.
Tradition, in our mind, is what we do until something better comes along. Thats why we want to introduce you to Beach House Shake. Its where the beauty of nature meets the ingenuity of science, and the end result is a new traditionone without compromise.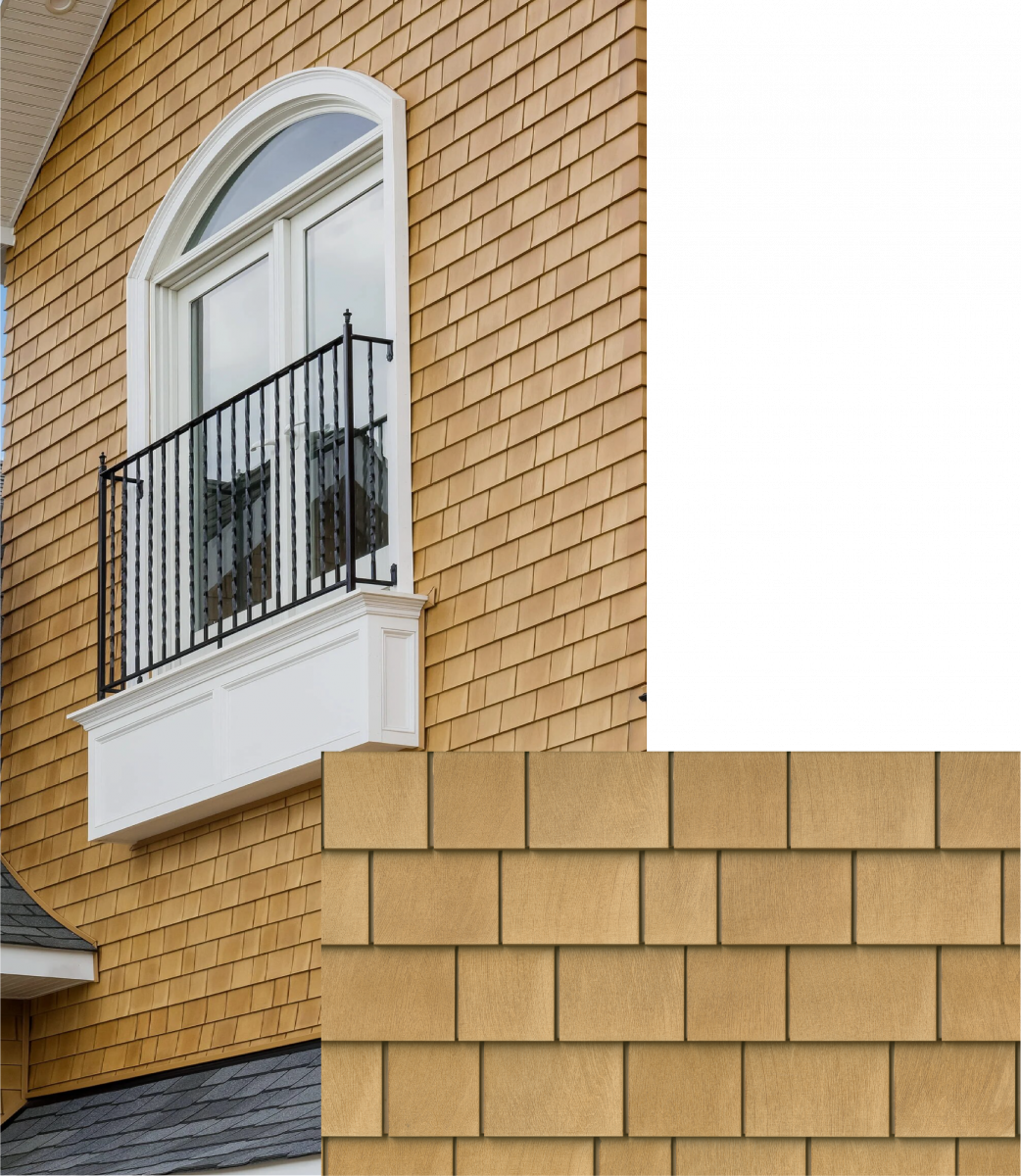 Sandcastle
Fresh Cut - Eastern White Cedar Style
Achieve the warmth of brand new eastern white cedar. Sandcastle looks stunning on full walls and entire homes, and can also be used to brighten and accentuate architectural details such as gable ends. It pairs beautifully with white trim, giving the feeling of the first day of vacation.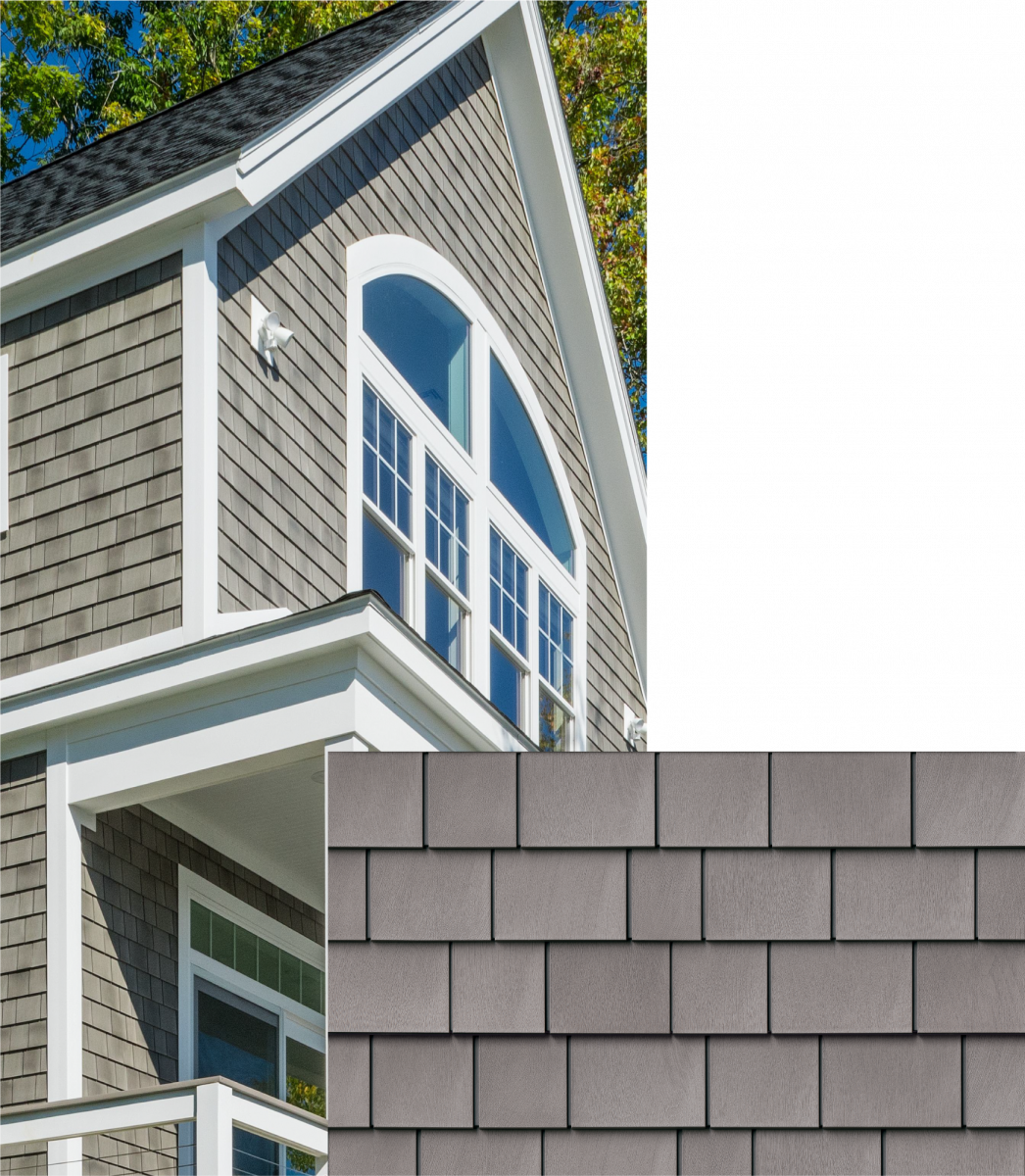 Hatteras
Weathered - Untreated Cedar Style
Replicate the deeper gray shakes commonly found in southern coastal regions. Hatteras is an excellent choice to replicate the appeal of a classic seaside retreat or a farmhouse. Pair it with white trim & windows for a more dramatic look, or black trim & windows for a more subdued impression.
Atlantica
Gently Weathered - Untreated Cedar Style
Capture the silvery gray tones of weathered cedar typically seen in northern coastal regions. Atlantica is the perfect way to replicate the charm of a seaside beach house. Pair it with white trim & windows for a more subtle look, or black trim & windows to make the colors pop.

Pacifica
Fresh Cut - Western Red Cedar Style
Get the look of freshly cut western red cedar. Pacifica combines beautifully with earthy, natural tones, and is a natural fit for Craftsman-inspired homes. Its deep red blend makes it a bold color, but the fact that it harkens back to ancient Pacific forests makes it timeless, rather than trendy.

All the natural beauty of wood
Without the Costly Maintenance
Tando the #1 Brand of Composite Shake
TandoShake is the original and most iconic shake on the market. Tando offers the broadest range of profiles to meet any architectural style and add instant curb appeal.
Tando
It's About Time
When you buy a Tando Stone or Shake you know you are getting the best product on the market, and so do we. That's why we back everything we sell with an industry leading 50 year Performance Plus Warranty, 20 Year Beautiful Freedom Limited Warranty on Beach House Shake, and 20 Year Rock Solid Limited Warranty on Tando Stone. No Other product on the market can match Tando in the look and feel of our composite materials, and no other product will stand the tests of time and mother nature like Tando Shake and Stone. For more information you can download the brochures and warranties, fill out our easy request form, or give us a call at (888) 997-6635.
Go Back