Vinyl Designer Window Shapes

Add variety and individuality to your home with designer shaped windows. Our specialty shapes, including octagons, triangles, roundtops and full circles, offer unlimited opportunities to customize your windows. We also offer numerous grid options to enhance your interior design possibilities. Your imagination is your only limitation, with a virtually endless combination of sizes and shapes of windows.
Features
ENERGY STAR qualified with optional ENERGY STAR or High Performance glazing upgrade
Shapes available: half-round, quarter round, oval, elliptical, segmental, extended segmental and geometric shapes
Interior Colors
BetterGrain is a revolutionary dual-process painted wood grain finish that mimics the qualities of natural wood better than veneers, laminates, foils or other alternatives.
BetterGrain interiors will not have limit latches.
Due to monitor printing limitations, stain and paint colors shown are for representation only.
Exterior Colors
Paint finishes are available for white or almond vinyl windows.
Due to monitor printing limitations, stain and paint colors shown are for representation only.
Grid Configurations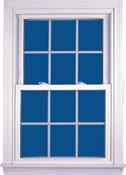 Contoured GBG (Grids Between the Glass)
Glazing
ENERGY STAR (standard)
High Performance - incorporates triple glazing and Krypton gas for maximum energy efficiency. This glazing package exceeds ENERGY STAR requirements. This will be the appropriate choice for customers who want a product with superior performance.
Low-E
Low-E/Argon
Double Low-E/Argon
Obscure
Tempered
Bronze Tint
Extension Jambs
Primed finger joint or clear pine
4-9/16"
6-9/16"
Custom sized up to 7-1/4" Wall (standard)
Exterior Casing
908 Casing
Flat Casing

Additional Options
DP50 Upgrade
Structural Mullion
Foam Wrap
Foam Filled Frame & Sash
Performance
ENERGY STAR qualified products and practices help you save money and reduce greenhouse gas emissions by meeting strict energy efficiency guidelines set by the U.S. EPA and U.S. DOE. The ENERGY STAR label also designates superior energy performance in homes and buildings.
Harvey Building Products is committed to continually improving our management of energy resources. We are proud to be part of the family of businesses who have also joined with ENERGY STAR.
Downloaded Thermal Performance Data
Go Back